Snow-Damaged Roof: How to Hire the Right Roof Restoration Experts in Brooklyn?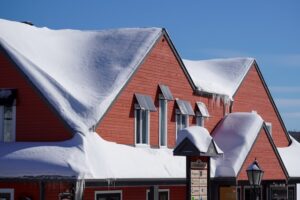 Snow-damaged roofs might not seem like a big deal when the flurries start settling on top of your homes. Yet, they can create severe difficulties in the long run.
That's why these roofing issues require immediate response to ensure that your property continues to stay protected against extreme weather conditions. A compromised roof can result in continuous wear and tear of the whole property.
That's why you should consult licensed roof restoration experts in Brooklyn for repairs and remediation.
Our article highlights the main causes of winter damage and the benefits of hiring professionals for restoration.
Here's what you should know:
The Premises: What Are the Main Causes of Snow-Damaged Roofs?
Ice dams, icicles, and excessive snow build-up are the main reasons for calling roofers. These conditions arise when old roofs or incorrectly designed roofs collect more snow than they can hold during the winter.
Most icicles form during subfreezing temperatures when the warm sunshine or indoor heating system causes snow (and ice) on the roof to melt. As the melted ice drips off the roof slope, some water droplets freeze in the cold air. These frozen droplets create connected icicles throughout the slope.
At other times, the repeated icicle formation creates blockages both on top of the roof and inside the gutter line. These stoppages disrupt water flow when the ice melts. In turn,  it causes more snow accumulation on the rooftop.
Over time, the snow begins to melt and accelerate water intrusion in the roof and ceiling. The seepage results in structural defects (like discolored walls, peeling paint, and cracks) and consistent roof leaks.
Early intervention can prevent the snow-damaged roofs from buckling up and collapsing. Otherwise, the gradual snow build-up can compromise the structural integrity of your roof and the surfaces beneath it.  Consequently, a significant amount of water damage can lead to mold growth and infestation.
These are why snow removal and maintenance become a requirement when the weather gets rough in Brooklyn.
The Signs: When Should You Call Roof Restoration Experts for Help? 
You shouldn't wait for your roof to collapse before you hire roof restoration experts in Brooklyn for assistance. Instead, keep an eye out for warning signs to minimize severe structural damage.
Our diligent IICRC-trained roofers conduct a thorough home inspection when they arrive. We do this to detect underlying problems with the snow-clad roof and hidden structural issues.
We ask homeowners to call us when they notice:
Sagging ceilings
Frequent creaking sounds from the roof and attic
Icicle formation at the edge of your roof
Leaky roofs during slightly warmer weather
Frozen gutter and downspouts
Missing, cracked, or broken roof shingles
Crumbling exteriors
Jammed attic/top floor doors and windows
Asides from this, you should consider proper snow removal when snow and ice accumulation exceeds 20-25 per square foot. Ask for professional assistance to protect yourself from fall injuries and prevent roofs from further weather damage.
911 Restoration of Brooklyn: Why Should You Choose Us?
Our roof restoration experts in Brooklyn have years of expertise and industry-grade training. They use these skills to operate heavy-duty equipment that can eliminate a large amount of snow that covers your rooftops. Besides removing icicles and snow, we deal with intrusive structural issues too.
These include water damage, mold growth, and drainage issues due to the clogs and obstacles created by the heavy snow load on the rooftop.
Apart from being highly capable of dealing with weather-related restoration emergencies, we create personalized services for our customers.
These include:
Apart from this, we offer insurance support to clients in need. Our cooperative team will share photographic evidence of the snow-damaged roof, the estimated roof repairs cost, and follow-up maintenance fees. You can attach these details with your home insurance application to receive reasonable coverage from your carrier.
All in all, our excellent customer service, industry knowledge, and speedy services make us the best service provider in the area.
In a Nutshell
Snow-damaged roofs can create long-term issues for your home. These include costly roof repairs and severe property loss caused by water damage, mold growth, and plumbing problems. Hiring the right professional can minimize risks.
Our team arrives at your home within 45-minutes of your call. The quick response time saves costly maintenance issues and permanent property damage. We can guarantee that our roof restoration experts in Brooklyn will remain with you from start to finish. They will create customized mitigation plans based on damage and feasibility to ensure the structural integrity of your property remains intact in the aftermath.
Due to this, you manage to tackle snow flurries and storms better than your neighbors.
Got a roofing emergency? Contact 911 Restoration of Brooklyn for further details.