Sanitization Services in Brooklyn
This is a challenging and uncertain time for our community in the Brooklyn area. As we face the coronavirus pandemic, we owe it to ourselves and our neighbors to maintain a clean environment to the best of our ability.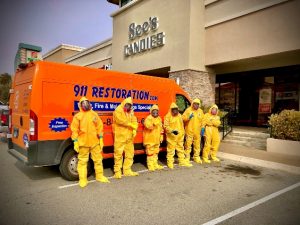 As a property owner, you might be feeling the burden of constant sanitization and disinfection. Those who operate essential businesses may be especially overwhelmed at this time. Some retail stores such as grocers cannot close their doors. Banks and certain office buildings remain in operation. Meanwhile, you are still tasked with keeping your spaces clean for the sake of your employees, your customers, and yourself. Call us at (718) 215-9475 and please allow us to offer you a free visual inspection. We provide you covid 19 cleaning services in Brooklyn.
Coronavirus is highly contagious and can live on certain surfaces for up to three days. Those infected with the virus may not show symptoms for as long as two weeks. This means guests and workers who enter your facility could carry coronavirus without realizing it. Any surfaces they come into contact with could become contaminated, and simple soap and water will not kill the germs. For this reason, commercial property owners must be diligent in disinfection practices.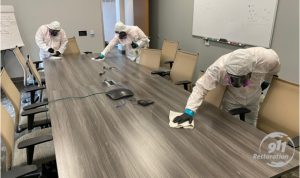 While many who contract coronavirus do survive, a coronavirus infection can be disastrous for vulnerable individuals. Those who are over the age of 60 or have pre-existing medical conditions are at a higher risk for pneumonia, kidney failure, or even death resulting from coronavirus infection. As a business property owner, you do not know which of your customers or employees go home to vulnerable family members. The safest option is to sanitize your facility as if every member of your staff is a high risk individual. Call us at (718) 215-9475 and learn how we can help.
If you yourself live with a vulnerable person, observe best practices for disinfecting your home environment. The Centers for Disease Control strongly encourage that these vulnerable members of our community be provided protected living spaces whenever possible. Do everything you can to keep your loved one's room sanitized and isolated from outside germs.
For added peace of mind, call 911 Restoration of Brooklyn. Our professional sanitization and disinfection crew is trained to follow CDC and EPA protocols. These expert technicians clean your residential or business property thoroughly. They observe best practices to protect you, your staff, and your family during sanitization. And they communicate clearly so you understand their process. The coronavirus pandemic is moving fast. Everyone wants to do what's best for their Brooklyn community. But with new information emerging every day, the effort to keep up can feel overwhelming and even impossible. 911 Restoration is the best service provider company in over all covid 19 cleaning companies in Brooklyn. Let us help you find clarity, and help you provide peace of mind for your family, your customers, and yourself.
We have full-scale service in the sanitation business in Brooklyn. Call us at (718) 215-9475 and learn how we can help.