2021 In Review – Statistics About Water Damage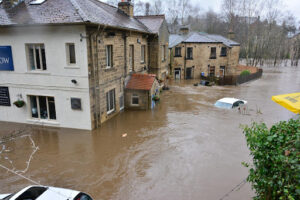 Heavy rainfalls, floods, storms, landslides, and tsunamis bring about huge destruction. To reduce the damage and disaster caused by water, preventative efforts and implementation of risk reduction techniques are factors that need to be focused upon. 
Global climate change has exacerbated the situation. The number of people exposed to water disasters and the causing water damage has increased. These natural disasters are indications and warnings that urgent action is needed to curtail global warming.  
Natural water disasters in 2021 
Over the past couple of years, floods have been the most occurred natural disaster globally.  
Hurricane Ida alone affected more than a million homes in the United States, leaving them without power. Rivers overflowed, apartment basements filled with water after the extremely heavy rainfalls, and cities like New Orleans were left in total darkness for days before their electricity was restored. Hurricane Ida killed at least 45 people in New York alone. 
According to a recent survey, the United States of America was hit by around eighteen weather-related disasters,that cost the country more or less around $100 Billion.  
Statistics about Water Damage
Apart from natural disasters, water damage can have many other causes. Leaks in roofs, broken or old pipes in a home's plumbing, and water damage caused when putting out fires. Claims related to these types of water incidents have been on the rise over the years. 
Almost 30% of all home insurance claims we attributed or related to water damage in homes. 

2% of all homes have experienced some kind of water damage over the past year. 

Plumbing issues are the most common water-related damage to homes, reaching up to 54%. 

Out of 50 insured homes, one home has surely filed for a water damage claim in the past year. 

In the United States of America, around 14,000 people face a water-related emergency or incident on a daily basis at the home or workplace.  

It is assumed that 98% of all basements in the United States will suffer from some kind of water damage during their lifespans.  

$2.5 billion is the annual cost that insurance companies in the United States cove for water damages. 

Almost 30% of property owners suffer from water-related damage at least once a year. 

An average homeowner can pay up to $7,000 for water damages. 

I'm sure you won't believe it, but water leaking from homes in the United States can exceed a trillion gallons in just one year! Some of these leaks might be really small, like droplets from a tap, but they can lead to a huge waste of water and huge damage to homes if not taken care of on time.  

The costs of water damage vary. Internal leaks from faulty or broken plumbing can cost up to $17,250, and the costs of damage from floods, where a home has experienced about 18 inches of standing water, can be as expensive as $26,000.  
However, these exorbitant expenses can be avoided by following simple preventative measures. Regular checkups, maintenance of pipes and leaks, and inspections e by professionals like us at 911 Restoration of Brooklyn will definitely help you save on extra expenses. 
As a homeowner, the greatest threat of damage to your property is from water. Water damage is not only very common, but the repairs can be just as costly. According to a survey, insurance companies in the United States of America paid a whopping $13 billion to various home and property owners for repairs and fixes that were caused by water damage. And these water damage issues are not lessening with time. In fact, the exact opposite has been taking place.  
Most American people do not perform routine maintenance in their homes. Only one out of five Americans are said to do so. 
911 Restoration of Brooklyn 
Residential and commercial buildings end up paying millions of dollars every year for damage caused by water to their property. You could be among one of those millions of Americans who suffer from water damage. However, contacting 911 Restoration of Brooklyn to respond to your needs and to restore and repair your property back to its original form can be your solution. 
Living in Brooklyn means water damage can happen to your residence from natural sources or from other sources like sewage damages. It is important to contact professionals like us at 911 Restoration of Brooklyn to help you in these dire times. Our experts are highly skilled, and IICRC certified to help you restore any and all kinds of water or fire damage that your property might have experienced. Call now at (718) 215-9475 or visit our website and our expert team will be with you within 45 minutes of initial contact! We are available 24/7, 365 days a year.