Water Damage and Mold Removal Crown Heights
If water begins leaking inside your household, we want you to know that you can get ahold of the water damage Crown Heights agents at 911 Restoration of Brooklyn literally anytime and we will be at your doorstep within 45 minutes to begin renovations.
Our mold removal Crown Heights specialists are trained to repair and cleanup all types of water and mold damage, such as:
Washing machine overflow

Ruptured hoses

Flooding

Leaky shower pan

Ice machine Malfunction

Burst Pipes

Roof leaks

Sewage backups

Appliance malfunction

Water heater explosions
Our mold removal Crown Heights pros are available 24/7/365 for these exact situations. You never know when a water disaster is going to strike, and we want to be there for you at all hours of the day or night.
Call our IICRC certified water damage Crown Heights crew today when you need the best water damage restoration in the industry, and we will provide you with a free visual mold inspection.
Washing Machines Can Cause Home Flooding And Mold Development
Most of us just put in a load of laundry and pretty much forget about it until we hear the buzzer go off letting us know it is time for the dryer.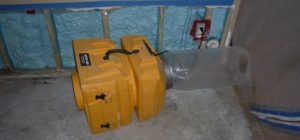 This is usually a safe system, unless there are tears in the water hose that connects the washing machine to its water source.
When there are cracks and holes in the hoses that help run these big water-based appliances, then they can easily rupture, causing water to immediately flood the area, which can lead to mold growth.
Our mold removal Crown Heights unit is well-versed in the damage that a faulty washing machine hose can accomplish, so when you call on us for help, you can be sure that we will also check for fungal infestations.
We know what to look for in these hoses, so not only will we get your home dry again, but our water damage Crown Heights operation will patch up the source of the problem, as well.
So, call our mold removal Crown Heights workers today, and we will get you the fresh start you deserve after a ruptured hose has caused flooding and mold damage.
You Can Count On Us To
Get Water Damage Dried Up Immediately
Mold can't grow without moisture, so having our water damage Crown Heights techs get those wet areas in your home dry right away will help prevent an infestation.
If water has seeped into your basement after a heavy storm, built up in the bathroom from a leaking pipe, or spilled on to the carpet, it should be dried within 24 hours, because that is all the time it takes for mold to begin growing.
If you've experienced a flood, our mold removal Crown Heights experts will remove water-soaked carpets, bedding, and furniture from the area and put them in a well-ventilated place to they can dry out.
Leaving any wet items lying around the house will cause mold and mildew to continue growing, so make sure to keep the floors and walls dry after a flood has occurred.
Our water damage Crown Heights pros at 911 Restoration of Brooklyn knows how to get your household repaired after it was been invaded with water, so call us today and we will make sure your home is free of all mold and water damage.