Water Damage Flatlands
911 Restoration Brooklyn's water damage Flatlands flood extraction technicians know that any kind of water-related problem within your home is going to need immediate repair and restoration to mitigate any further damage.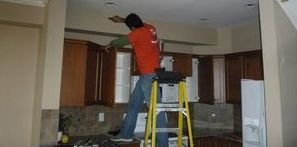 Roof leaks, pipe bursts, and toilet overflows are just some of the issues you may come across and may come unexpectedly.
Fortunately, our water damage Flatlands leak repair specialists are available 24/7/365 and will respond to your call within 45 minutes so we can get started on restorations as soon as possible.
Our IICRC certified water damage Flatlands technicians are constantly trained to provide you with only the top quality water damage restoration. If you suspect any section of your home has been affected by water damage, make sure you call us immediately.
Once you call us regarding a water-related concern, we can provide you with a free thorough inspection and estimate to give you a clear understanding of the problem. Once the issue has been properly detected, we can proceed with repairs and restoration to give your home a fresh start.
Water Damage Prevention Techniques You Can Try
Our water damage Flatlands moisture removal team has been assisting homeowners for over thirty years in dealing with various concerns like pipe bursts and flooding.
As we've dealt with various water emergencies through our years of helping homeowners, we want to share the know-how we have by helping you prevent water-related problems from arising. Here are a few tips to assist you:
Make sure that the heater is left on and the water line is shut off to prevent pipes from freezing during winter.
Make sure that you have an exit strategy prepared in case of flooding.
It's a good idea to keep the dehumidifier running to prevent mold growth in the dark, damp areas of your home.
Check your roof for any signs of damage and repair any issues right away.
Keep your gutters and downspouts free of debris through regular cleaning.
Whatever the problem may be, you can trust in our water damage Flatlands leak repair specialists to assist you in handling issues including plumbing issues, washer bursts, roof leaks, toilet overflows, and storm damage.
By having us work on your home, our mold removal Flatlands technicians can help you mitigate any further problems and make your home look good as new.
Providing Only Quality Water Damage Repair and Restorations
Our crews are trained and equipped to handle all the various kinds of water-related issues including pipe bursts, water cleanup, and mold removal. Our team will make sure that any damaged section of your home is repaired and restored with only the utmost quality. We will make use of the latest drying technology and techniques.
Our quick response, quality work, and availability ensure you get the best relief to water damage. Our mold removal Flatlands technicians are licensed, insured, and bonded to keep your property protected.
You can also count on our team to assist you in filing your insurance claims with your insurance provider so you can get the most affordable price for the services your home needs.
With the quality services that our water damage Flatlands team can provide, it's clear that 911 Restoration Brooklyn is your go-to company when it comes to solving all of your water-related problems.
When you notice a leak or pipe burst, give our water damage Flatlands team a call right away!